This book may ruffle some feathers.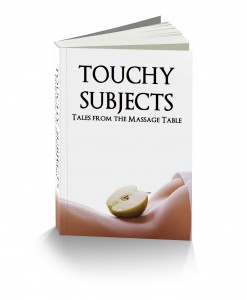 I wrote it at first as an expression of gratitude for all the great adventures massage has taken me on over the years. In fact, I remember precisely the moment the idea for the book popped into my mind. It was the summer of 2008 and we were on a family vacation to Honduras. In the northern town of Copán where we had journeyed to explore the Mayan ruins, we heard of a hot springs resort tucked into the jungle several miles out of town; supposedly they had great massages. So, we signed up, but the person on the phone said we'd need to bring the massage therapist with us because he was in town that day. That's how we ended up with our own massage tour guide into the back woods of Honduras. Passing sketchy guerrilla roadblocks, we wound our way through thick growth dotted with peasant coffee farms. When we finally found the place, which is called Luna Jaguar, it was advertised by nothing more than a tiny round sign on a fence post. Once inside, though, we were enthralled by the Mayan theme, rope bridges over gorges, hot and cold pools and most of all the massage pavilion straddling a steaming jungle river. Our guide switched to therapist mode and began giving my wife and me simultaneous hot-stone massages with stones heated in the river itself. Don't ask me how this therapist was able to pull off two massages at the same time, but it worked, and while I lay there in the midst of this remote Mayan jungle hot springs, I realized that massage had taken me to some pretty cool places over the years, and that maybe I should write about the REAL adventure that this profession has taken me on.

So, four years later, the book is finally available. At the Amazon  link here, you can download the first part of the book for free to see if you like it. And if you're an Amazon Prime member, you can download the whole thing for free.
Here are a list of the chapters, or "subjects."
VENEREAL DISEASE
GURUS
SLAVERY
NUDITY
HOMOSEXUALITY
BODILY FUNCTIONS
OBESITY
SEX
PROSTITUTION
ADULTERY
RAPE
IMPOTENCE
DISNEY WORLD
CELLULITE
MONEY
DEATH
TRUTH
LIES
LAWYERS
LOVE
TOUCH
So, you can see it's not your typical massage book. It's about life as seen through the lens of massage. Here is the description of the book from Amazon:
Full of quirky characters that populate a profession most of us know little about, Touchy Subjects is a behind-the-scenes look at the lives of those who make their living touching others. In this tell-all memoir, Steve Capellini, author of Massage for Dummies and other mainstream massage titles, yanks the draping sheet aside and comes clean about the temptations and transgressions that have marked his own career. Then he embarks upon a far-flung adventure seeking the true meaning of human touch.

From a Madison Avenue boardroom to a gross anatomy lab; from the deck of a private yacht to a seedy Asian massage parlor, the author uncovers stories that others haven't told: sex stories, prostitution stories, adultery stories and stories about a modern massage slave trade that ensnares hundreds of thousands of young women, many of them in the U.S., some of them working right in your home town.

The author tangles with a Trinidadian rapist, a nymphomaniac ex-Playboy bunny, an impotent sea captain and an overweight multimillionaire ukulele player. Through each of these stories, he gradually guides the reader toward the underlying Truth of massage, debunking myths along the way and getting to the heart of what it's all about—touching people. The stories are interspersed with cutting-edge research on the science of touch, evolutionary biology and the grooming habits of some of our closest primate relatives, the bonobos.

The author's quest to get to the bottom of touch takes him to a clothing optional hot springs resort in Northern California, a meditation retreat in the Virgin Islands, an ashram in the Berkshire mountains, behind the wheel of a Maserati on the back roads of Arizona and finally to a village in the foothills of the Himalayas in outback Nepal where he meets a man who has risked everything—his health, his money and years of his life—on a quixotic mission to train "untouchables" to become massage therapists. It is there, among some of the world's most impoverished and oppressed people, that the true meaning of massage is revealed. As John Lennon said in his lyrics, "Love is touch. Touch is love." Massage therapists are not only touching people. They are loving people.

Doing massage or, as the author calls it, "touching naked people with love," is a profession unlike any other, filled with flamboyant practitioners of all stripes. Touchy Subjects features them all, in a circus side show of chapters such as Nudity, Impotence, Adultery, Homosexuality, Cellulite and Disney World. Throughout each passage, Capellini seeks to answer important questions: Is it possible to touch dead people? What's it like to massage a horny guru? And what percentage of women have seduced their masseurs? Hint: it's high. This is a raucous, irreverent, insightful and, in the end, touching story about what it means to touch people, from someone who has, quite literally, touched thousands.
I hope you choose to glance at the first few pages for free. Then, if you like what you read, come along on the crazy round-the-world ride that massage offers all of us. Wherever we go, in every part of the world, there will be people waiting there to welcome us, take us in, accept us, have us take our clothes off and then touch us all over.
Let me know what you think, either about the book or about your own experiences with massage. Have an exotic massage story? Great! Share it with the rest of us. I especially like corresponding with other massage practitioners, but I welcome the feedback of anyone who has an interest in any and all "touchy subjects."
Keep in touch here.
Until then, happy massage trails,