TRAVEL
One of things I love the most about my career has been introducing people to massage styles from around the world. Though many other countries and cultures give massage a central place, Thailand is my preferred destination. In Thailand, massage is EVERYWHERE–every street corner, every market, every hotel, every beach. You cannot go too far without being offered a massage, usually at a very good price. The photo on the right shows a typical scene. If you look closely you can see stalls and people in the background behind the curtains. These are simple mats on the ground in a marketplace in Chiang Mai. Here's the story, called Thai Massage Culture Shock, about receiving a massage at this location.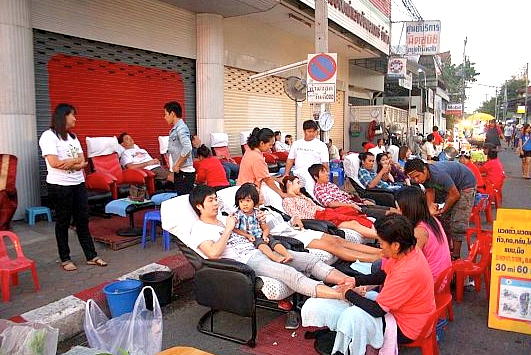 The photo on the left shows another common site–dozens of people lounging on chairs right there on the sidewalk while people stroll by doing their shopping. If your first reaction is, "this can't be very relaxing!" just go ahead and try it. In the U.S. we put a heavy emphasis on the environment we receive our massages in, and we pay for it. A 30 minute foot massage (with shoulders thrown in for good measure) will typically cost $4. And where else can you have your kids join in on the fun? I love the look on the little girl's face: "Ah, Dad's getting another massage. Think I'll just sit here on top of him and soak in the relaxing vibes." In the U.S., not only would the massage cost ten times as much–we'd also have to hire somebody to watch the little girl, adding babysitting charges on top of the massage fee.
Most countries have some form of massage culture that they share with visitors and enjoy as a healthy pleasurable pastime. Some of the most highly  recommended are:
The list goes on, and most countries feature squadrons of kind, gentle people willing to touch you for a reasonable fee. One country that most people do NOT associate with massage is Nepal. While trekking in the Himalayas or going on a Tiger-sighting safari may be more common, therapeutic massage is also growing in the country as well. I have had the privilege of going to Nepal to visit the home of Himalayan Healers, the first official massage school in that country, founded by my friend Rob Buckley, pictured here. Rob spent 8 years volunteering to build up the program, and his present goal is to return to Nepal and build a dedicated training center where students can learn in a safe and tranquil environment. Stay tuned for further details about this project.