MASSAGE FOR DUMMIES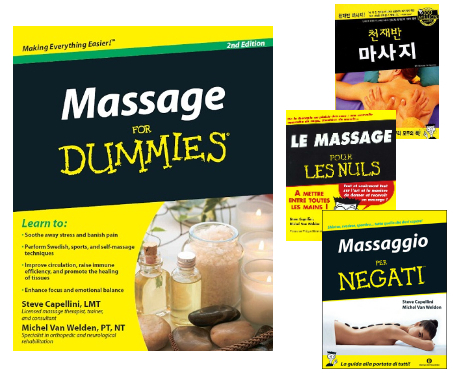 This book has been enjoyed by people all around the world, which makes me really happy. What could be better than encouraging people to be nice to each other in this most fundamental and accessible way? It takes ZERO specialized skill or ability to perform a pretty good massage. All you need are a few basic techniques and the willingness to spend a little time focused on another person.
If you'd like to test the waters and see if the book's informal teaching style will work for you, try downloading CHAPTER ONE and see how you like it.
Chapter One_Massage for Dummies
If you like the style, the book is available on Amazon.com here, as well as in many bookstores both virtual and real.
And here's a little important safety information, in the form of a "Cheat Sheet" provided by the publisher. This will give you basic information such as where not to massage, conditions to avoid, etc.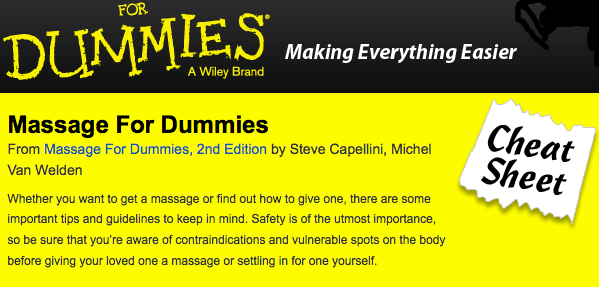 TABLE OF CONTENTS
Introduction.
Part I: Discovering Massage.
Chapter 1: Not Just a Rub: How Massage Can Improve Your Life.
Chapter 2: A Brief History of Touch.
Chapter 3: Your Skin and What's Beneath It: What You're Touching When You Massage Somebody.
Part II: The Art of Receiving Massage.
Chapter 4: Making Massage Part of Your Life: A Massage Road Map.
Chapter 5: Your First Massage Appointment, Step-by-Step.
Chapter 6: The Rules for Receiving Massage.
Chapter 7: Enjoying the Spa Experience (There and at Home).
Part III: The Art of Giving Massage.
Chapter 8: Setting the Stage for a Great Massage.
Chapter 9: Stocking Your Massage Tool Chest.
Chapter 10: All the Right Moves.
Chapter 11: Putting the Moves Together: Massaging the Back of the Body.
Chapter 12: Putting the Moves Together: Massaging the Front of the Body.
Chapter 13: A Special Treat for the Feet: Refl exology.
Chapter 14: Have Hands, Will Travel: Doing Massage for a Living.
Part IV: Massage for Every Body.
Chapter 15: Higher, Faster, Stronger: Sports Massage.
Chapter 16: Sensual Massage.
Chapter 17: A Massage for Baby (and Mommy Too).
Chapter 18: Self-Massage Techniques to Use at Work.
Part V: The Part of Tens.
Chapter 19: Ten (Plus a Few More) Top Places to Study Massage.
Chapter 20: Ten Outstanding Places to Receive a Top-Notch Massage.
Appendix: Massage Resources.
The photographs for the second edition were taken by my friend Yanik Chauvin from Montreal. You can see more of his work at his website.