MASSAGE CAREER GUIDE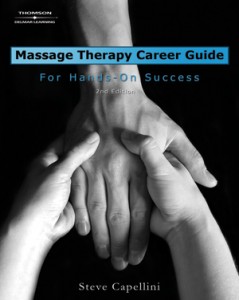 MASSAGE THERAPY CAREER GUIDE was written to help people who are thinking about entering the field. It offers inspiration tempered with practical advice based on years of experience.
"I'm about to start massage therapy school and I found this book to be incredibly helpful!" –Amazon reviewer
One of the main reasons I wrote the book is to give people a realistic picture of what life in the massage profession is like. To that end, I begin by asking a simple question: "Is this career really for you?" To help answer it, I developed a short 10-point checklist. It will take you less than five minutes to fill out, and it just may help you make a few decisions.
"The Ten Traits of a Born Therapist" checklist
TABLE OF CONTENTS-MASSAGE THERAPY CAREER GUIDE
Introduction

overview
author's background
learning objectives
chapter summary
how to use this book
 Chapter One

Massage Therapy—a Career Without Limits
the development of massage in the U.S.
current growth rate in the field
the aging baby boom generation creates a demand for massage
the mainstreaming of "alternative" therapies
dozens of directions for post-graduate study
a wealth of job opportunities
 Chapter Two
Is There a Healer Hidden Inside You?
the ten traits of a "born" therapist or healer
the psychology of touch
the spirituality of touch
what you can realistically expect if you become a massage therapist
overcoming sexual issues
developing your healing skills—massage schools & training programs
 Chapter Three
Making the Dream a Reality—the Nuts and Bolts of the Massage Business
work environments: salons, spas, clinics, chiropractor's office, doctor's office, private clientele, subcontracting
how to choose your direction
job interviews and test massages
creating a professional image

letterheads, business cards
brochures, fliers
photographs

advertising options
business plans
Chapter Four
Massage Clients—Treating the Whole Person
clients—where to find them
referrals/introductions
advertising
consultations/evaluations, what you can realistically hope to accomplish and what cases you should refer out
special cases
establishing boundaries
clients who become friends
Chapter Five
Touch and the Law
the parameters of the professions—what you can and cannot do legally as a massage therapist
licensing
zoning
professional insurance
safety concerns
third-party billing
taxes
Chapter Six
Creating the Perfect Space—How to Set Up and Maintain the Optimal Environment for Your Massage Therapy Practice
choosing your location, points to keep in mind
ambiance—clinical or soothing, chic or earthy?
lighting
music choices
equipment—tables, linens, oils and more
what to wear—uniforms vs. street clothes, casual vs. professional
Chapter Seven
Day to Day Realities—Dealing with the Details of a Thriving Massage Practice
a "nightmare" day in the life of a massage therapist
scheduling & managing your time effectively
record keeping—client records and financial records
keeping yourself in shape mentally and physically
dealing with the burnout syndrome—five key techniques
fees—setting them, bartering, keeping the books
rewards—vacation time and therapy for the therapist
rewards—from financial planning to financial freedom
a "dream" day in the life of a massage therapist
Chapter Eight

The Path Ahead—How to Advance Your Career in Massage
RESOURCES

professional organizations and associations
books, magazines, and newsletters

BEYOND THE BASICS—advanced trainings

mind/body practices
energy work
deep tissue therapies
movement-oriented bodywork
techniques from the East

SPECIALIZED MASSAGE PURSUITS

humanitarian massage
mother massage
animal massage
water massage (Watsu®)

MOVING INTO OTHER PROFESSIONS

Physical Therapy
Chiropractic
Nursing
New Medical Massage Technology

EXPANDING YOUR REACH

writing and massage—a growing side-field
teaching—workshops, seminars
teaching in massage schools
massage, a family affair
consulting with corporations, spas, doctors, business people, and other therapists
making a name for yourself—the key to success

CONCLUSION
You can find out more and purchase the book on Amazon.com here.